Rack Extensions are optional modules for Propellerhead Software's Reason music software. They are very similar to VST plugins but with the added software stability and seamless Reason look and feel. They are also available on all Reason hardware supported platforms. For more information on this technology, check out the Rack Extensions page at Propellerhead Software.
Effects
Le Space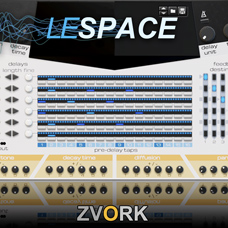 LeSpace is a delay based effect with a particular emphasis on rhythmic multi-tap echoes and increased stereo width. With six individual delay lines, each with individual controls for pan, volume, decay, length diffusion and tone, a wide variety of effects can be programmed from simple echoes to reverbs and choruses. But most of all, LeSpace lets you create complex delay based rhythms that can enhance your leads or drum loops with a great sense of stereo space.
Synthesizers
Oberon

Oberon is our latest synthesizer that builds upon our experience with Noxious. More intuitive, more rich, more user friendly, more feature packed, while keeping the pristine audio quality of additive synthesis. With editable multi-point curves for envelopes, wave forms, filter response curves and more, it offers a great deal of control over your sound. Great for evolving soundscapes it also capable of bizarre sounds with its spectrum bend capabilities. On top of that, it offers unison and octave virtual voices to stack even more richness in your patches.
Noxious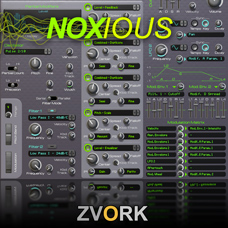 Noxious is our first synthesizer and we have chosen to move away from classic subtractive synthesis by adopting an additive synthesis engine under the hood. But to keep things controllable and simple, sticking to Reason's philosophy, the real power of this synthesizer lies in the modifier stack. A modifier is a tool to distort or transform the spectrum in a particular way and of course they are fully modulable.
Players
ST100 Strumming Machine

With the release of Reason 10.1, Propellerhead Software has added the support of player devices and alongside this release we have come out with the ST100, a pattern based strumming machine. Apply it to any instrument, program your strokes with a 1 to 64 step sequencer, press a chord and listen to your strums. As a full class player citizen, the ST100 can of course be chained with other players in the Reason rack.
Volt devices
The Volt family of devices is dedicated to the manipulation of control voltage signals inside the Reason software.