Oberon and Noxious have just been updated to respectively version 1.1 and 1.6 with full support for Blamsoft's PolyCV polyphonic CV protocol. Now you can control Oberon or Noxious with external Rack Extension devices that support this protocol and send polyphonic note commands across CV cables.
If you have a doubt on what version you are working with and need support for PolyCV, just check the back panels and a visible "PolyCV" logo should be just under the gate and CV outputs in the "Sequencer Control" sections.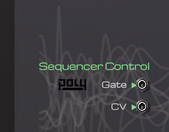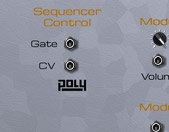 Oberon users will also be treated with a new user wave interpolation mode that enhances the possibilities of the user drawable wave forms by providing two different new interpolation methods between the start and end waves for both Wave 1 and Wave 2. Some new cool patches are also included that demonstrate this. You should also check out this video tutorial that also gives a small presentation of the feature.
On top of that 8 new Pitch CV outputs for each 8 separate audio outputs have been added to help out those of you who use Oberon in a modular setup.