Rack Extensions

Rack Extensions are optional modules for Propellerhead Software's Reason music software. They are very similar to VST plugins but with the added software stability and seamless Reason look and feel. They are also available on all Reason hardware supported platforms. For more information on this technology, check out the Rack Extensions page at Propellerhead Software.
Synthesizers
Noxious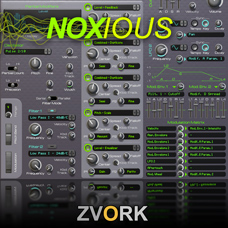 Noxious is our first synthesizer and we have choosen to move away from classic subtractive synthesis by adopting an additive synthesis engine under the hood. But to keep things controllabe and simple, sticking to Reason's philosophy, the real power of this synthesizer lies in the modifier stack. A modifier is a tool to distort or transform the spectrum in a particular way and of course they are fully modulatable.
Volt devices
The Volt family of devices is dedicated to the manipulation of control voltage signals inside the Reason software.